Introduction
When it comes to online security passwords play a serious role and are vital to protecting your identity in today's ever changing world. Creating random secure passwords however is not always simple especially when you have lots of different online accounts to manage.
Getting started
That's why I created SmartPass a simple free utility you can download which will automatically generate complex random passwords for you.
To get started click the button below to download SmartPass to your computer, SmartPass is freeware and currently supports Windows versions starting from Windows XP and requires no other dependencies.
How to choose a secure password
The general rule of thumb when choosing secure passwords for your online accounts is to use the following:
Lower case letters
Upper case letters
Numbers & symbols
A length of approximately 20 characters in total
SmartPass uses the above factors to randomly generate such passwords almost instantly saving you the trouble of coming up with something unique which you may have already used before on another account.
Installing SmartPass
Once you download the file using the above link open it and follow the prompts to install it, this will create a new shortcut on your desktop. Upon launch you should be greeted with the following command-line interface.
At this point you are asked whether you wish to create a new password or just use the one you have which you can copy and paste into a text document or website form.
Demo
Below is an animated GIF demoing the SmartPass application: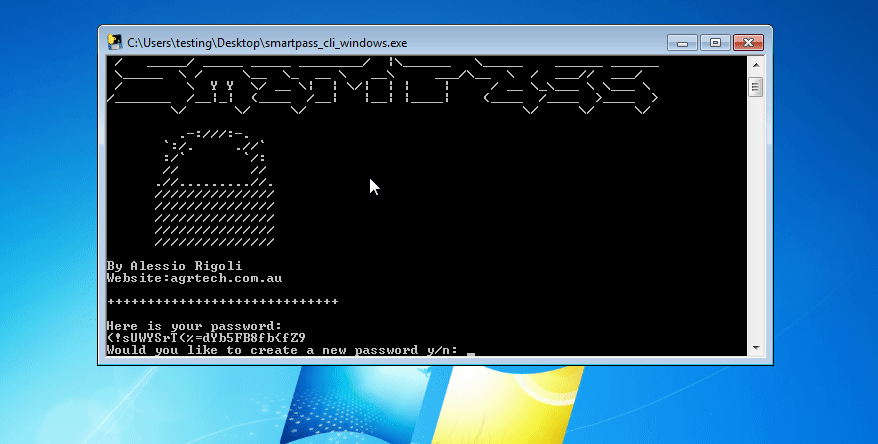 Other posts you may like:
How to calculate hashes using hashtoolbox
How to completely remove mail ru virus
Conclusion
Choosing complex, unique and secure passwords does take effort and is especially important as we become more connected online hopefully SmartPass can help make this process a little easier.
If you found this guide to be helpful be sure to check out our other software and services as well as joining our community for updates.
Hi and welcome to AGR Technology, my name is Alessio and I maintain this blog aiming to cover all things tech including Windows, macOS, Android and Linux. Thanks for stopping by and I hope you enjoy this website.