Are you using Google Chrome on your computer? While Chrome is an awesome internet browser you may be a little bored with its overall functionality. Google has made it very easy to install various themes and also plugins to help improve your experience.
In this guide, we will take a look at some hidden developer tweaks/hacks you can enable within Chrome, with a couple of minutes you can easily access these hidden options and fine tune your browser.
Note: Many of these features are experimental and can potentially break your browser or cause other issues, ensure you know what these are before trying them out, it some cases they could cause Chrome to crash and possibly require you to reinstall it. Proceed at your own risk.
In order to access them simply open up a Chrome Window and type the following code in your address bar:
chrome://flags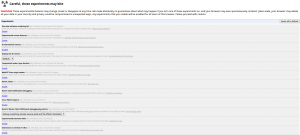 Once here you can go through and customize a bunch of hidden settings and enable features like smooth scrolling and also a range of other debugging options.
These features may be helpful if you are developing a web application or perhaps you are working with different API's or Chrome related components.
Hopefully, with these tips, you can improve your experience and get the most out of your browser regardless of what platform you are using.
[Tweet "Access hidden features in Google Chrome"]
Hi and welcome to AGR Technology, my name is Alessio and I maintain this blog aiming to cover all things tech including Windows, macOS, Android and Linux. Thanks for stopping by and I hope you enjoy this website.