How to fix "This copy of Windows is not genuine error"
If you have been using Windows for a while one issue you may have encountered is the dreaded "This copy of Windows is not genuine" popup followed by your desktop reverting to a solid black color replacing your wallpaper.
If this message looks familiar then follow along to discover how to remove this message and continue using your computer normally. This problem can arise when your computer is not connected to the internet for an extended period of time or hasn't been used.
During this time Windows is unable to communicate with Microsoft licence servers and triggers a built in feature called Windows genuine advantage which was designed to invalidate illegal or counterfeit copies of Windows.
Despite these intentions from Microsoft the feature can arise randomly  or from the scenarios mentioned above, a more serious concern however is that some Windows updates may not work leaving you without potential security patches and fixes for your system.
Even if you have a legitimate copy of Windows this error can still randomly occur resulting in a rather annoying user experience, follow the steps below to find out how you can rid your system of the error and get your computer back to normal.
To get started go to the start menu and type "cmd" and hit enter on your keyboard, from here you should see a window open like so: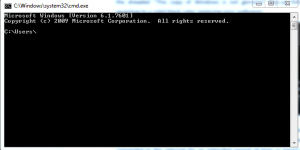 Once this opens inside the command window type the following:
Conclusion
After typing the above command press enter on your keyboard and you should see a box appear which says that Windows is installing license files and resetting the license status of the computer.
Lastly close all windows when complete and restart the computer, upon reboot you should notice the message is gone and Windows working once more.
Be sure to share this if it was useful to you, also check out the blog for other tutorial content and follow us on social media to get notified of all new content.
Last updated on Friday 18th of May, 2018
Hi and welcome to AGR Technology, my name is Alessio and I maintain this blog aiming to cover all things tech including Windows, macOS, Android and Linux. Thanks for stopping by and I hope you enjoy this website.